serviCIng businesses nationwide
Working with employees in over 40 states across the country,
Alcott HR takes pride in the impact we've created in our communities.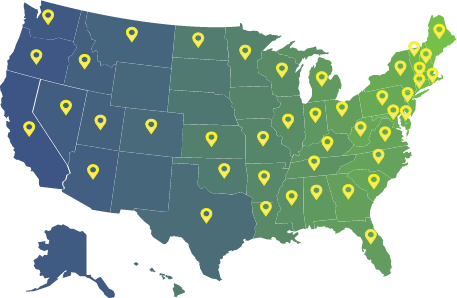 We are the most experienced PEO in New York State, making us the premier source for HR services and expertise in the area and a proven partner to businesses like yours.
Alcott HR was founded on Long Island in 1987, and since that time we have helped hundreds of companies – from Malverne to Montauk, from East Rockaway to East Hampton, from Point Lookout to Port Washington and everywhere in between – grow with the help of our HR outsourcing solution.
Alcott HR Long Island
71 Executive Boulevard, Suite 1
Farmingdale, NY 11735
(631) 420-0100
We have an intimate understanding of the challenges facing businesses in the Buffalo area, and we use our perspective and expertise to help keep companies ahead of the latest trends and challenges in human resources. It's why so many companies inside the city and throughout Western New York – from Downtown to Delaware Park, From the West Side to the East Side – have partnered with us for HR services.
Alcott HR Buffalo
1780 Wehrle Drive, Suite 120
Williamsville, NY 14221
(716) 626-9500
Buffalo businesses are making a comeback – and we're a big reason why. Since 1991, our Buffalo HR experts have helped hundreds of small businesses in the local area gain a competitive advantage by providing all-inclusive, comprehensive and professionally managed HR services, freeing business leaders to focus their attention on leading their businesses.
Alcott HR Oklahoma City
5100 N. Classen Blvd, Suite 100A
Oklahoma City, OK 73118
(405) 445-0547
In 2008 Alcott partnered with American Fidelity Assurance Corporation, a multi-billion dollar, privately-held company based in Oklahoma City. The synergies of the two companies expand their geographic reach, as well as products and services offered while maintaining their values and philosophy.