Human Resources as a Business Strategy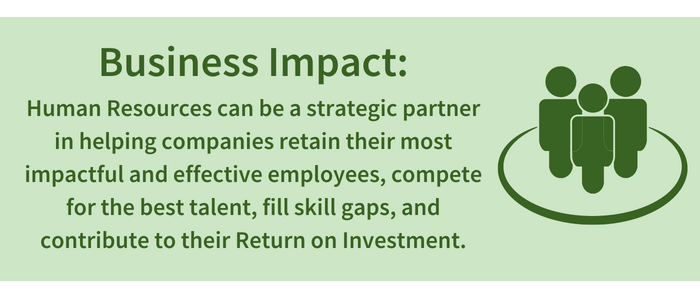 The current labor market is one of the most competitive markets that recruiting professionals have ever seen. Statistics show, for every unemployed worker, there are approximately two jobs available. Which means, it is now easier for employees who are dissatisfied with their current company to find a new position elsewhere. Human Resources can be a strategic partner in helping companies retain their most impactful and effective employees, compete for the best talent, fill skill gaps, and contribute to their Return on Investment (ROI) during this unpredictable time.
Employee turnover can become costly to a company. Some factors that go into this are the time, money, and resources spent on finding and training a replacement for a departed employee. Retaining employees is an effective way Human Resources can contribute to ROI. An effective HR department can identify at-risk employees, champion improved corporate culture, update company policies to be more competitive, resolve employee relations issues, and provide coaching to managers and staff, just to name a few retention strategies.
Onboarding is another opportunity for Human Resources to reduce costs. Based on a recent SHRM presentation, employees that go through an effective onboarding program are 69% more likely to be with your company in 3 years and 50% of new hires will be more effective. The results being that performance and job satisfaction will increase, and turnover will decrease, thus lowering overall costs. Improving your onboarding doesn't have to be costly, but it must be deliberate. You can make cost effective changes to the onboarding process by making your overall process more interactive and personalized to each employee and setting up time for departments to have team bonding to create stronger connections.
Training employees is also effective way Human Resources can contribute to ROI. Rather than spending money to hire a new employee for a position and adding additional salary to your payroll, training current employees so they can be promoted to a new position will lower the cost of adding another salary. Additionally, many employees and potential candidates are driven by opportunity for growth within a company. According to a recent BuiltIn article, 72% of job candidates cite lack of work opportunities as the number one reason for changing jobs. Training and developing your staff will show them you encourage personal and professional development, which will in turn, contribute to meeting company ROI goals.
Perhaps the best way to incorporate HR into your business strategy is by including HR in your executive team. What kind of input might your "Chief Human Resource Officer" bring to the most important decisions that are being made at your organization. They will be more plugged in to your front-line client facing employees, so they can provide valuable perspective that other members of your executive team may not be exposed to.
A few of the core functions of Human Resources are to manage, develop, recruit, and onboard employees. With the current market allowing candidates/employees to be selective with their employment, it's crucial for companies to evaluate their procedures and make improvements. Retaining, onboarding and training are just a few ways your Human Resources department can be a strategic partner in meeting your company ROI goals.
Written by
Caitlyn Zmroczek