The Business Case for Good Employee Culture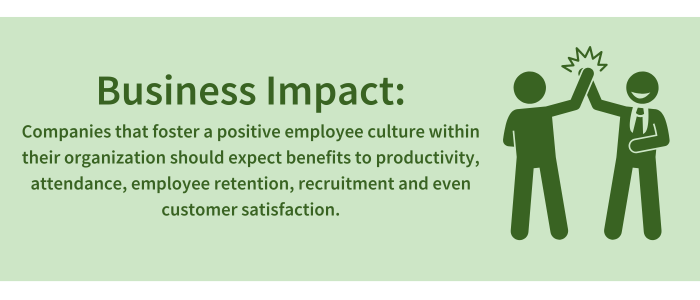 When we think about business success, profitability, productivity, and customer satisfaction come to mind. Entrepreneurs invest considerable time and effort into measuring and enhancing these key areas. However, there is a hidden gem that often goes unnoticed—an untapped avenue that can revolutionize your business success: good employee culture. 
In any company, employees are the lifeblood—they are the ones who show up every day, deliver exceptional work, interact with customers, and ultimately contribute to your bottom line. While the case for prioritizing employee well-being and work-life balance has been made, it's time to flip the perspective and explore how a thriving workplace culture can directly benefit your business. 
A strong company culture keeps employees actively engaged and aligned with the organization's goals. By fostering an environment that sets clear expectations and equips employees with the necessary tools and resources to excel, you create a workforce that is driven and committed. The impact? According to a Gallup study, highly engaged teams have shown a remarkable 21% increase in profitability¹. Moreover, these teams experience reduced absenteeism and an astounding 59% drop in turnover rates¹. Engaged employees not only show up to work with enthusiasm but also tend to attract like-minded talent. When employees believe in their companies, they eagerly refer their friends to job openings, and negative reviews become a thing of the past. 
Beyond employee engagement, a compelling company culture should also prioritize employee happiness. Just as engaged employees are the lifeblood of your organization, happy and empowered employees are the heart that pumps vitality throughout your company. It all begins with one simple concept: giving your employees a voice. By encouraging and valuing their ideas, you empower them to take ownership of their roles and become truly invested in their work. But it doesn't end there. Companies that promote healthy lifestyles, foster work-life balance, and provide opportunities for personal growth create a positive, content workforce. The result? Research indicates that happy employees are 12% more productive than average workers and a whopping 22% more productive than their unhappy counterparts². When employees feel valued and appreciated, they take immense pride in their work and willingly go the extra mile to exceed expectations. 
Yet, the impact of good employee culture doesn't stop there—it also extends to your customers. Studies conducted by the International Academy of Business Disciplines reveal that companies with satisfied employees consistently earn higher ratings for customer satisfaction³. When your employees are happy and engaged, they become brand ambassadors, infusing their interactions with customers with enthusiasm and genuine care. Consequently, customers enjoy a superior experience with your company, forging lasting relationships and driving brand loyalty. 
In the grand scheme of measuring and enhancing business success, numerous strategies exist. However, if you seek a holistic approach—one that positively impacts your business, enhances employee well-being, and delivers exceptional customer experiences—good employee culture is the catalyst you've been searching for. 
Embrace the transformative power of employee culture, and watch as your company thrives, your employees excel, and your customers become loyal advocates of your brand. 
Mann, Jim Harter and Annamarie. "The Right Culture: Not Just about Employee Satisfaction." Gallup.com, Gallup, 11 July 2022,

https://www.gallup.com/workplace/236366/right-culture-not-employee-satisfaction.aspx

.

 

"News & Events." New Study Shows We Work Harder When We Are Happy, https://warwick.ac.uk/newsandevents/pressreleases/new_study_shows/.

Ward, Sheila R, and Gbolahan S. Osho. "Organizational Culture and Customer Satisfaction: A Public and Business Administration Perspective." Business Research Yearbook: Global Business Perspectives, vol. 13, 2006, https://doi.org/1-889754-10-2.