Employee Wellness Post COVID-19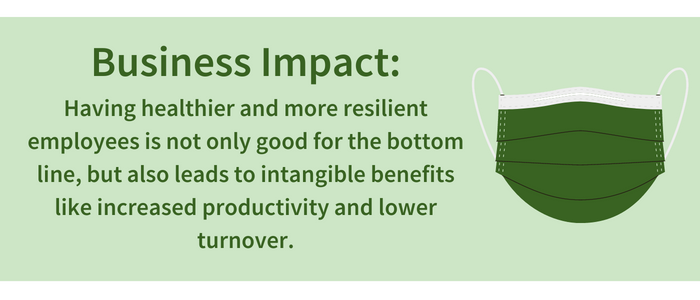 COVID-19 brought about massive changes in the way many of us do business. Many of us have moved out of the cubicle and into the modern remote workplace, our living rooms. While this new remote freedom has been a delight to some, feeling trapped inside your homes and apartments day after day has taken its toll on many. Now more than ever, employers need to understand the effects that the modern remote workplace is having on their employees' overall wellbeing and take whatever steps they can take to help mitigate the impacts that it is taking on employees' physical and mental health.
Research conducted by Oracle and Workplace Intelligence found that 2020 was the most stressful year people have ever experienced in their working lives, with 85% sharing that newfound work-related stress is affecting their home lives, and 76% agreeing that companies should be doing more to protect workers' mental health. Considering the results of this survey, along with the many others that have yielded similar
results, employers everywhere should be taking a closer look at what they can do to support their employees' wellbeing. Having healthier and more resilient employees is not only good for the bottom line, but also leads to intangible benefits like increased productivity and lower turnover.
The following are some great initiatives that companies can consider when looking to create or grow a workplace wellness program:
Create a wellness committee composed of management, employees, and HR, that collaborate to manage the wellness program.
Deliver workshops and webinars on topics that support employees' mental and physical wellbeing.
If the company has an Employee Assistance Program, remind employees of the services available and how they can connect with the EAP for support.
Provide employees with access to online mental health support and counseling services such as Talkspace or BetterHelp.
Schedule virtual hang outs or team building exercises that allow employees to connect with one another outside of their normal work activities.
Start a voluntary company-wide book club, where employees can escape their to-do lists for an hour and chat about the book of the month.
Provide a space where employees can discuss their health and fitness goals. This can be in the form of a group chat or Teams channel dedicated to health and fitness where employees can meet, share resources, and encourage one another.
Offer to pay for employee subscriptions to online workouts and fitness apps.
Promote mindfulness and meditation exercises by giving employees access to a mindfulness app such as Headspace or Calm.
Encourage employees to take regular breaks by requiring them to block out break times on their calendar or set reminders and alarms throughout the day.
Starting with just a few of the above can be a major step in the right direction when it comes to relieving the heightened levels of stress and anxiety that employees may be facing. Employees are arguably the biggest asset for any organization and investing in the support of their overall wellbeing, especially in tough times, can be what sets a company apart from the rest.