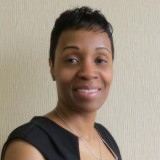 As Operations Director for Alcott HR, Athena Sherron oversees all aspects of Alcott HR's payroll and payroll tax services and functions, as well as client implementations and associate onboarding. She helps our clients understand wage and hour issues while streamlining their in-house payroll procedures to enhance efficiency and improve compliance.
Athena is committed to helping our clients grow by serving as a "go-to" resource for knowledge, expertise and guidance, leveraging her 14 years of human resource experience to provide the best service and advice in the industry. She is an active member of the American Payroll Association, and has held payroll and HR leadership positions for more than 7 years.
In addition to being passionate about customer service, Athena is passionate about serving her community as part of charitable organizations. For example, she is on the Board Of Directors for the Long Island Chapter of the National Coalition of 100 Black Women, which empowers African American girls and women in the areas of education, health and economics. In partnership with my organization and the American Payroll Association, each year Athena teaches "Money Matters" to middle school students at Turtlehook Middle School in Uniondale.
Athena is also a member of the Lupus Foundation, which provides caring support to those who suffer from the disease. As a Lupus survivor herself, Athena understands how important it is to help others live a normal and active life with the disease.