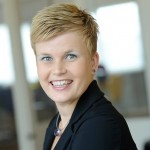 Sales and Marketing Manager
Alieke is responsible for interacting with U.S. organizations and assessing their needs in terms of human resources, administration and consultancy services for supporting their European operations.
Alieke has eight years of international business development experience and has brought a variety of U.S. companies to the European market to develop their sales and marketing organizations.
She has a bachelor's in international business and languages from Windesheim University and holds an MBA as an alumnus of the NCOI Business School.