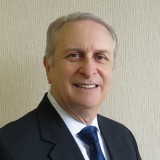 Director Of Client Services
Robert Chanin is Alcott HR's Director Of Client Services. He takes an active role in assisting our clients, taking the time to understand their challenges as well as their goals and ensure that Alcott HR is providing them the best possible service in the industry. He leverages more than 25 years of human resource management experience to provide the best guidance, advice and service.
Robert holds an MBA in Human Resources from Adelphi University, is a member of the Society For Human Resource Management (SHRM) and regularly participates in food relief programs and other charitable events in the Long Island area.