Our quality sets the standard for HR outsourcing companies.
There are thousands of companies providing HR services, but Alcott HR can provide you with something just as important – confidence. That's because, when you work with us, you'll be working with an organization that has repeatedly set the bar for quality since 1987. Our quality programs include:
Employer Services Assurance Corporation (ESAC) accreditation

Only 5% of all professional employer organizations (PEOs) hold ESAC accreditation, and we are proud to say that Alcott HR is one of them. ESAC accreditation for PEOs is similar to FDIC assurances for the banking industry, serving as a mark of financial stability, operational excellence, a commitment to ethics and overall quality. The ESAC provides our clients with the protection of a $15 million surety bond for added peace of mind. To maintain this certification, which we've held since 1998, Alcott HR has to meet stringent financial and ethical stan­dards and continuously undergo quality audits.
National Association of Professional Employer Organizations (NAPEO) membership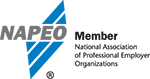 NAPEO is the largest trade group for the PEO industry, responsible for establishing industry best practices, keeping current on regulatory compliance issues, educating members and helping the PEO model evolve in order to ensure it continues to meet the needs of business owners like you. Members of our staff have served in executive and leadership position in NAPEO. In 1997, Lou Basso, Alcott HR president and CEO, was elected president of the organization. He has also chaired many important committees and spearheaded the organization's drive to attain regulatory certainty for the industry. Today, we continue to play an active role in guiding the organization – and the PEO industry itself – forward. Dawn Davidson Drantch, our In-House Counsel, serves on the NAPEO Board of Directors and Steven Politis, our Vice President sits on and chairs NAPEO councils.
Audited financial records

At Alcott HR, we are committed to transparency. That's why we are Audited certified by NAPEO. This symbol indicates that Alcott HR has confirmed to NAPEO that we have audited financial statements prepared and audited during the last 12 months by an independent CPA resulting in an independent opinion the financial statements are accurate, complete and fairly presented in accordance with generally accepted accounting principles (GAAP). NAPEO has not reviewed and does not make any representation as to the audit.
Credentialed staff
All of our HR services are delivered by certified representatives in payroll, risk management, implementation, information technology and other human resource disciplines. Some of the credentials our team members hold include:
Professional In Human Resources (PHR)
Senior Professional In Human Resources (SPHR)
SHRM Senior Certified Professional (SHRM-SCP)
Certified Payroll Professional (CPP)
Global Payroll Management (GPM)
Fundamental Payroll Certification (FPC)
Certified Public Accountant (CPA)
Certified Information Technology Professional (CITP)
Six Sigma
Put our quality to work for you.
Contact us to find out how our commitment to quality sets us apart – and can set you up for success.